12-28-2015
HOMAGE TO H.R. GIGER
HAMBURG, GERMANY
January 27th to March 6th 2016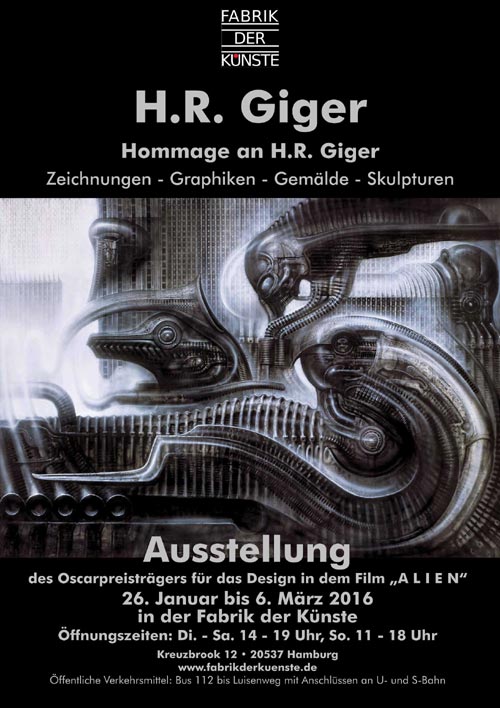 02-23-2015
02-23-2015
Director Neil Blomkamp (District 9) has been set to direct the next ALIEN film.The film takes place after the period of Prometheus. Ridley Scott will produce.
09-01-2013
09-01-2013
Giger Exhibition in Linz, Austria: Die Kunst der Biomechanik
September 5th – 29th 2013
A Cooperation between
LENTOS Kunstmuseum Linz & Ars Electronica
07-15-2013
07-15-2013
Morpheus Fine Art will be exhibiting works by many of our fantastic and surreal artists at the Copro Gallery in Santa Monica, CA beginning with an opening on July 27th. There will be several Giger limited edition prints at the exhibition.
06-19-2013
06-19-2013
H.R. Giger is just been inducted into the Science Fiction Hall of Fame. He joins such masters as Harlan Ellison, Sir Arthur C. Clarke, Ray Bradbury, and George Lucas.
06-05-2012
06-05-2012
PROMETHEUS, the new Ridley Scott film, firmly grounded in the visual aesthetic and designs of H.R. Giger will be released Worldwide this month.
11-18-2011
11-18-2011
The 2012 H.R. Giger calendar will not be published this year due to the Border's bankrupcy. We hope to resume with the 2013 calendar.
11-08-2010
11-08-2010
New Passagen Watch inspired by H.R. Giger's Passagen art. Swiss made limited edition ETA automatic with GIGER etched on the crown opposite side. 14 part case with sapphire crystal. Giger has long been fascinated with watches and their themes. Available at morpheuswatches.com
12-20-2009
12-20-2009
Dan O'Bannon passed away in Los Angeles on December 17th. He was 63. O'Bannon was one of the creative forces behind the original ALIEN film, and suggested Giger's art to director Ridley Scott.
12-18-2008
12-18-2008
Giger Museum Celebrates 10th Anniversary June 21st at the Museum in Gruyere's, Switzerland. Contact info@gigermuseum.com for details.